JAKARTA,BritaBrita.com  —  Italian Navy Multirole Frigate, ITS Carabiniere, docked in Jakarta on March 9 to 13. Before visiting Jakarta, the warship, which is  consists of 160 crews, started sailing from La Spezia, Italy, on December 20, 2016 and passed Saudi Arabia, Sri Lanka and Australia.
"As any military ships, we would like to cooperate with all the navies in other countries including Indonesia. Another important purpose of this visit is bringing our Italian flag abroad as well as to strengthen the diplomatic relations," said the Commanding Officer of ITS Carabiniere Francesco Pagnotta as Reported by Republika.co.id.
Pagnotta added, the last time Italian navy visited Indonesia was about 20 years ago in 1997. Pagnotta surprised by knowing Indonesians really enthusiastic to come and see the Italian warship on Saturday, March 11, and Sunday, March 12. On the first day about 1.300 people visited the warship.
"We are very happy to see that Indonesians are enthusiastic to see the ship. It is such a warm welcome for us. I am very happy to show off the ship," Pagnotta added.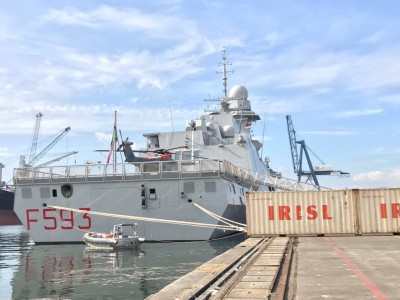 Pagnotta said, the aim of the visit is also to showcase the Italian defense technology. The Carabienere is a new generation antisubmarine warfare frigate with a modern combat system. The warship was delivered to Italian navy on April 28, 2015. He mentioned that the ship is an Italian product.
Pagnotta added, the warship will go back to Italian territory until the first of June. After visiting Indonesia, the warship will head to Singapore, Malaysia, and Oman. "I think at the end of the tour will be around 18 countries," Pagnotta said.
Ghita Intan, one of the Indonesians who visited Italian warship, said that she is really curious to see the inside of the warship. "I come here to knowing and exploring Italian warship. This is my first time to see a warship," Ghita said.
Editor : Syl